SELECTED SERIES BY TITLE

Although I conceive each piece separately, individual pieces that pose similar challenges ultimately produce a series of works. I tend to work on several of these series simultaneously and sometimes over decades. The following is a list of selected series by title.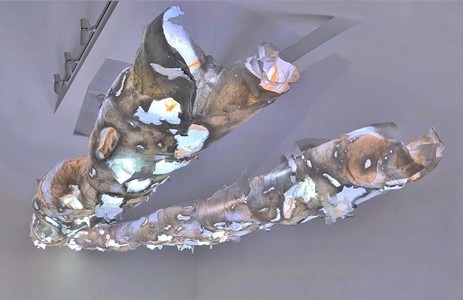 Departing Skies is the companion piece to Fallen (below), and installed above it. Surrounded in darkness, it emanates ambient light from within, and floodlights the landscape below. Its skin is frayed, lacerated and torn, its form is vacuous as if it has emptied its contents onto the landscape below and is now poised to lift away from it in a final departure.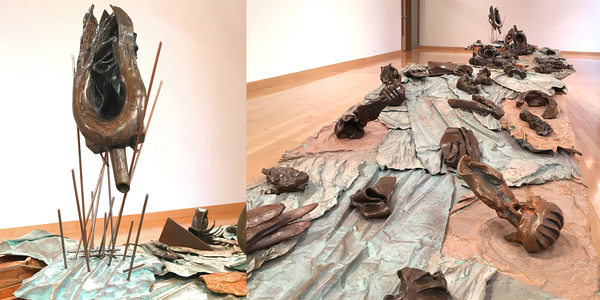 Fallen is conceived as a metaphorical landscape of timeless mythological events. Its imagery comes primarily from my paintings and works on paper going back to the 1980s: single winged mythological forms, masks of authority, sirens, megaphones, bones and other fragments, part organic, part mechanical, all seemingly fallen and abandoned. Their prophecies and warnings ignored, innocence and idealism broken, and grace and hope only recovered through the process of art.
Fallen is a "living" artwork that keeps changing. First, its size, shape, and placement changes with each installation, responding to the specifics of each site and curatorial collaboration. Its 28-38 ft. length may unfold either in a straight line, an open U or V shape, or other configurations. It also changes over time as new forms and fragments are added and others removed or installed differently, in a process of natural growth. However, the overall impact stays the same.
S.A. 2017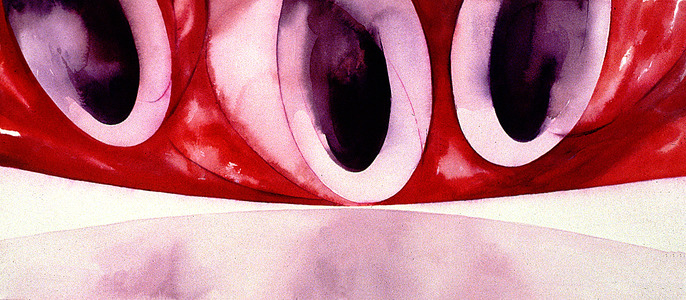 Departing Skies drawings: Applying acrylic wash traces or stains on paper and allowing the water to carry and settle the pigment freely, creates the sense that the image, like a thought or a memory, is either forming or dissolving as we are looking at it. The image that evokes a siren, megaphone, or black hole, may be viewed as a metaphor for ignored prophesies, warnings, even screams - personal or political. The cerebral and surreal combine to reflect how the mind both recalls with urgency, and distances and "exoticizes" the knowledge and memory of painful events.
S.A. 2010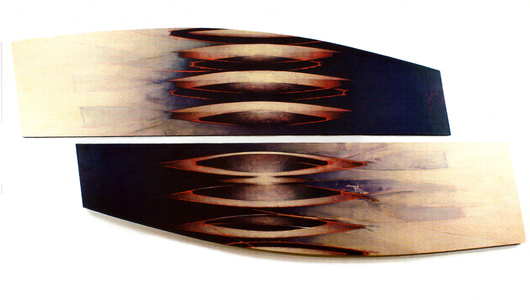 Perpetual Sunset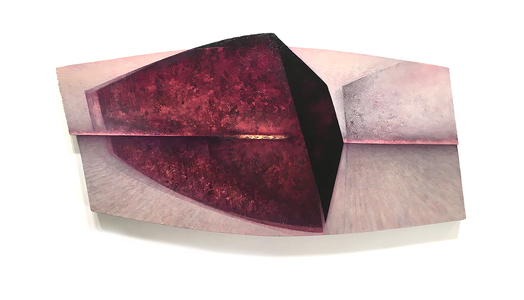 Approach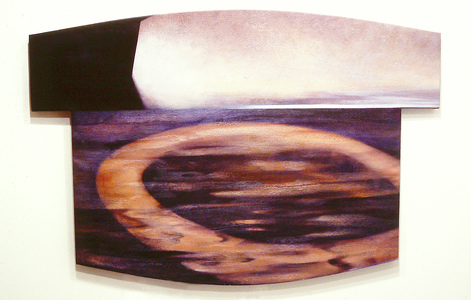 Distant Warnings and The Long Wait (below) series make references to nature as well as to art history, especially the Romantic Era. This self conscious reference is reinforced by the use of images of air vents, pipes, tubes, sirens, and other "void" objects that serve as obsolete instruments of warning. The seemingly jarring objects hover in empty spaces that are enclosed or extended by the use of shaped canvas or paper. These shapes however, are conceived to reflect the permanence, and the absolute order and trapping power of authority, in both a personal and a political sense.
S.A. 2000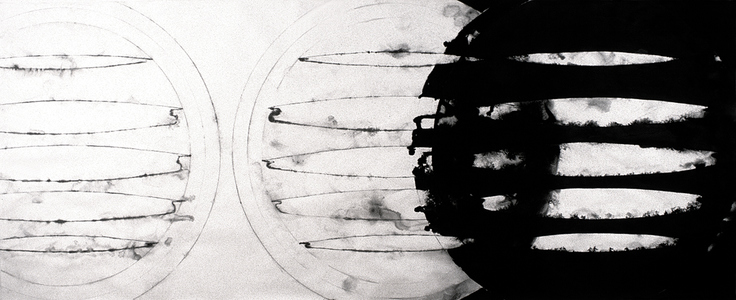 The Long Wait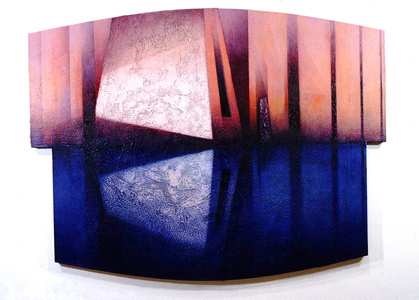 The Island of the Dead - After Böcklin:
Between 1880 and 1886, the Swiss artist Arnold Böcklin created five versions of his painting titled
The Island of the Dead
. From my childhood, viewing of the first version of Böcklin's painting by way of a small reproduction, through endless viewings of all five versions up to the present, my experience remained the same: the first two versions of Böcklin's painting are the most powerful evocations of an unworldly stillness. This is the closest we can get to imagining death. My fifteen versions, some with the same title, others titled
Island
or
Shadow of the Island
, have simply been homages and learning experiences.
S.A. 2017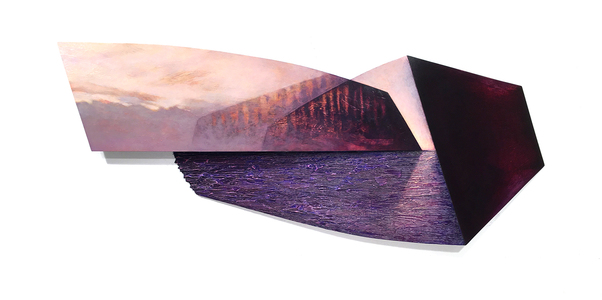 Shadow of the Island

Gardens and Pools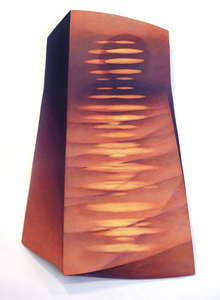 Reflections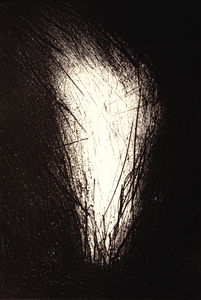 White Tree:
If a "pure" vision is at all possible, then, in my work, this would be the one: the
result of my attempt at emptying my mind of all the ideas, images, and other elements of my visual vocabulary… the "tricks of the trade" which can as well become limitations as they accumulate, as they are necessary. In the "emptiness" of my mind, this image emerged as a simple pencil sketch. In time, I developed it first as an etching pictured in this reproduction, and later as a set of large paintings and works on paper. The white form rising like a column of light, smoke, or a trunk, is also a complete void, quite literally, as the untouched paper.
S.A. 2017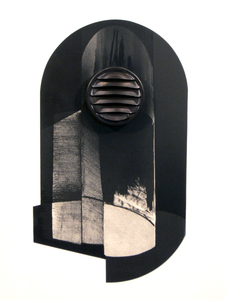 To Silence-Persistent Interior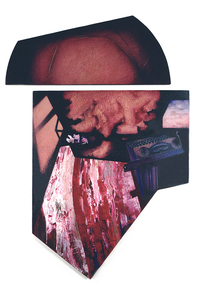 I Saw His Departure
is a series of paintings, large and small, and in various media, all initiated by a suite of lithographic prints by the same title. The repeated image is that of a head with glasses, pressurized and distorted, sometimes accompanied with a typewriter, trapped in an arched space. Here, the arch serves more as a private chamber of contemplation than monumental architecture. Although the specific reference is my father and his lifelong struggle with psychological illness, what is relevant for art are the effects of this experience on our consciousness, which are explored in these pieces.
S.A. 2017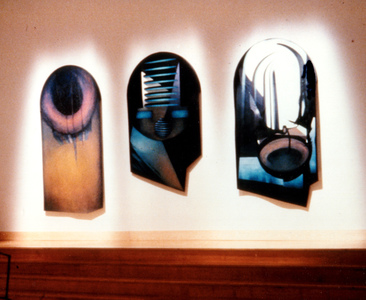 To Four Years of Silence
: The tall arch shaped paintings correspond to a period of involuntary silence, 1980-84, both in recent Turkish history and in my personal life. These pieces are not meant as a political critique, but instead, as a reflection of the muting effects of the political on the personal. Trapped ambitions and ideals have a way of swelling up inside us, getting distorted and saggy. If they do find a way out, they are no longer vivid but mute. Their clumsy monumentality is what stands before us.
S.A. 1985